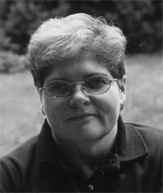 So Who is Jamie Anyway?
Jamie Samilio has more than 20 years of publishing and marketing experience. Her formal education includes a Bachelor's Degree in Art from Mercyhurst College, and a Master's Degree in Education from Virginia Theological Seminary.

J. Samilio & Associates 'Äì Art of the Imagination, State of the Art
Jamie Samilio began her marketing career in the publishing industry in the early days of typesetting, darkrooms, and drafting tables. Staying on top of the technology wave is a passion not a chore for Jamie, and she has been providing marketing services including design, writing, editing, presentations, web design, web and display advertising, and corporate branding solutions. Jamie's aim is to match the client with the best people to get the job done on time, and within budget. Her associates include writers, editors, designers, web gurus, and PR professionals.
Jamie'Äôs diverse client base has given her the flexibility to explore other aspects of the marketing and creative process including: point-of-sale to the client, customer service, budget and estimating, copy, and the creation of a total package of cohesive marketing tools.

Her work in the Washington, DC publishing market has led to invitations to serve as a graphics judge for several art competitions, among them those sponsored by the Association of Educational Publishers (Edpress), the United Way, and the Orchid Society of Western New York. She has also been a speaker at conferences for the Association of Educational Publishers and the American Academy of Religion. Jamie has created publications, print ads, logos, and web banners for an impressive list of clients that include: Financial Times, NIH, Axiom, Telecommunications Reports International, USAID, The US Forest Service, The 400 Group, ALP International, Electronic Data Systems (EDS), Episcopal Diocese of Washington, Wesley Seminary, Capitol Publications, US Army, Pluggable Systems, mBLAST, Inc., and TeleChoice, Inc.

When not at the computer or on the phone with clients, Jamie spends time at the piano, watching the fish in her aquarium, or working out in a martial arts studio where, as a black belt she helps instill a sense of discipline and self-confidence in her students.
The links below will provide information on Jamie Samilio, including resume, speaking engagemens, and other points of interest.